Amid Accusations Of Trying To Take Advantage Of Racial Unrest, Trump All Set to Visit Kenosha
Nikki Attkisson | Last Updated : September 2, 2020
Donald Trump is all set to visit Kenosha on Tuesday, even as Democrats are slamming his visit under these circumstances of racial unrest in the city. Democrats say that Trump is trying to take advantage of the situation for his election campaign.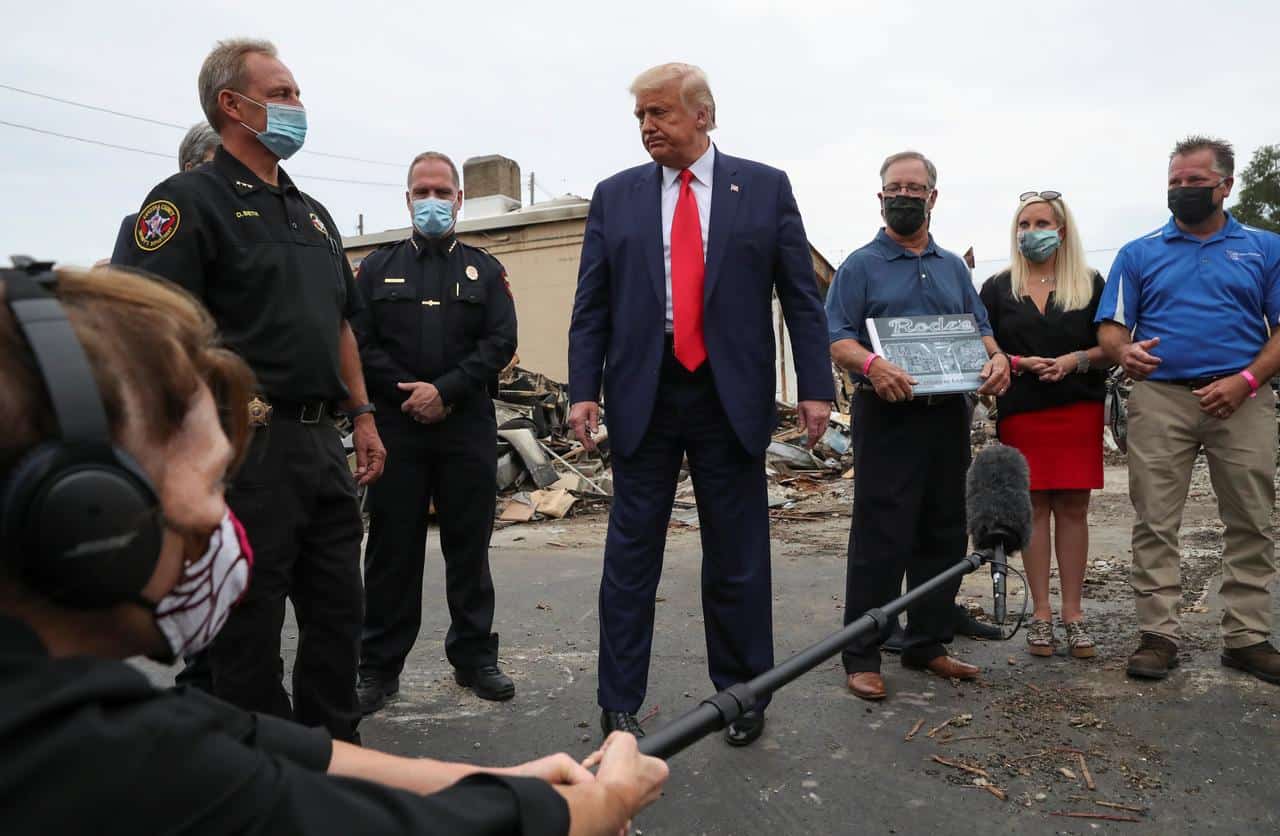 Kenosha is in the news for all the wrong reasons since August 23, as a police officer shot a black man Jacob Blake in the back seven times when he was called to attend a domestic event. The incident left Jacob Blake paralyzed from the waist down, and he is still in the hospital struggling for his life. As though this was not enough, it triggered violent protests across the city, and a 17-year-old boy Kyle Rittenhouse opened fire on the protestors. The incident left two people dead, and a third person was admitted to the hospital.
Even as the nation stands divided over such incidents, Trump did not hesitate to support the actions of Rittenhouse, saying that he was acting in self-defense.
The visit of Trump to Kenosha also includes surveying the affected areas due to recent violent protests and having a roundtable with the local authorities on Wisconsin Community Safety. Many political analysts feel that Trump is taking a big risk with this visit as anything controversial in his speech can incite further violence in the city. Not only that, it can also harm his election prospects in November if things go wrong during this visit.
However, Trump does not have any plans to meet Blake or his family members. Even though the family members wanted to meet him, they wanted to involve lawyers, and this did not go down well with Trump, who felt that it was inappropriate to talk about anything in front of lawyers.
The family members of Blake have declined to politicize the issue, and they said that they only want the safety of the community. Jacob Blake's father, along with other family members, plans to hold a peaceful rally in the affected area and meet other community members.
While Trump openly supported Rittenhouse, saying that he was acting in self-defense based on the reports by his attorney, he was not sure about the actions of the police officer who shot Jacob Blake. At one point, Trump criticized the officer and questioned him as to what made him shoot so many times in the back. On the other hand, he also said that the victim might have attacked the officers or going for a weapon when the incident happened.
During his speech at the RNC, Trump had accused the Democratic party for supporting such violence and backing rioters and looters. He made it the central line of attack for his campaign. He also warned that if Biden wins the election, it will lead to a lot of such violence and riots in the future, and Americans will no longer be safe in that situation.
Biden also accused Trump in many ways and said that Trump was instigating such violence and chaos as he could take political advantage of such a situation. He even blamed Trump for visiting Kenosha in this situation as this could spread racial unrest in the region.
Apart from Biden, many other Democratic state leaders asked Trump not to visit Kenosha during this period. The local authorities said that Trump visiting the affected area at this stage would mean that a lot of local resources will be redirected towards making arrangements for his visit, and this can hamper the healing of the affected city.
Many political analysts feel that Trump is taking a risk by visiting Kenosha in these troubled times. They feel that many people are waiting for Trump to make a mistake, and if he says anything that can anger the demonstrators, it can go bad.
Trump is already facing criticism for his open support to Rittenhouse. Trump told reporters that after looking at the video that shows the young boy shooting at protestors, it appears that he was acting in self-defense as protestors violently attacked Rittenhouse.
Trump is likely to visit the affected regions and discuss the safety concerns with local authorities and community members. He also praised the efforts of national guards in maintaining law and order in the affected region. The city is now coming back to normal after seeing a lot of violent clashes in the last one week. Even community members are working on cleanup operations and cooperating with authorities to restore peace and harmony in the community.
On the other hand, supporters of Trump accuse Biden of taking advantage of such violent protests. Michael Slupe, who works as a Sheriff in Butler county, told the media that Biden is blaming police officers for the problems while he ignores law enforcement in such situations.
As the situation is likely to impact the elections coming up in November, many people feel that such protests are likely to continue in the near future. Political analysts feel that Trump has to be careful about his words and handle the conflict between police and protestors in a delicate manner. They feel that if Trump talks about public safety issues, it will benefit him as voters will also agree with such things.
However, Trump has named many such incidents as law and order issues, and this can negatively impact his chances of winning the elections. As people may get the feeling that such statements on every occasion give police the unwanted impunity to act with force on the public.
Analysts also observe that Trump has been making an issue out of such protests all these days, and there are no improvements in the numbers. Such a stand can only help him in his base, and it will not provide any benefit outside the base.
Trump is also inclined towards sending federal forces to Portland and Oregon that have seen a lot of violent protests in the recent past. In Portland, supporters of Trump have clashed with Black Lives Matter supporters, and things have turned violent in many cases.
With over 15 years as a practicing journalist, Nikki Attkisson found herself at Powdersville Post now after working at several other publications. She is an award-winning journalist with an entrepreneurial spirit and worked as a journalist covering technology, innovation, environmental issues, politics, health etc. Nikki Attkisson has also worked on product development, content strategy, and editorial management for numerous media companies. She began her career at local news stations and worked as a reporter in national newspapers.
Sign Up For Our Daily Dose Of Hot News