Researchers have identified that DNA test is beneficial to identify secondary infections in covid-19 patients within a short duration of time.
In this way, doctors will be able to identify those patients who are at higher risk of developing pneumonia when they are suffering from covid-19 infection.
DNA Testing Can Quickly Diagnose Pneumonia In Patients With Severe Covid
According to doctors, mechanical ventilation is the best method to help patients who are suffering from severe covid-19 infection.
However, such patients are usually vulnerable to contracting infections from bacteria and fungi and this can happen due to various factors in hospitals.
Medical professionals say that "ventilator-associated pneumonia" is a big problem in people who are suffering from extreme forms of covid-19.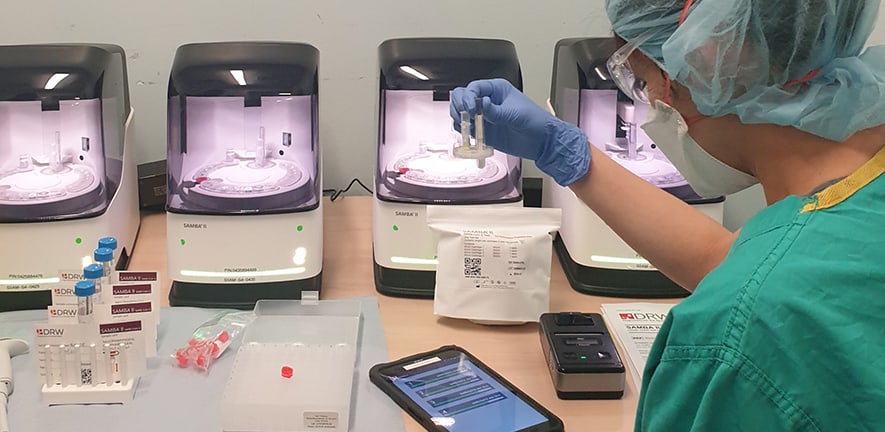 Doctors say that it is hard to diagnose such infections in patients and a targeted treatment is essential to save them from other health complications.
During the early stages of the pandemic, it was evident that covid-19 patients were at higher risk of developing secondary pneumonia.
According to several tests conducted by health experts, it was evident that patients with covid-19 were twice as likely to develop such conditions when compared to other patients in Intensive Care.
Considering this situation, it was important to control the lung damage and reduce the risk of further infection in critical patients.
Health experts had a big challenge as diagnosing pneumonia is a challenging task and bacteria samples from patients have to be cultured and grown in the lab.
This is a time consuming process for health experts. They were not able to adopt this method in most cases as several hospitals were over crowded with covid-19 patients in the last few months.
However, new study has indicated that such symptoms can be easily identified by detecting the DNA of different pathogens.
The advantage with this study is that it is easy to recognise and the test results are more accurate. Apart from that, the results can also be obtained within a short duration of time and this helps the doctors to modify the treatment according to the condition of the patient.
Health experts are of the opinion that the DNA of the bacteria can be tested within a matter of a few hours. In this manner, they did not have to wait for the bacteria to grow and patients can be given early medication to stop the growth of bacteria.
In the regular method of detecting pneumonia, the bacteria culture is grown in the lab and doctors analyse the pace at which it is growing to determine the level of infection.
As this takes a lot of time, patients will not be able to get timely treatment and it can get too late when they are already suffering from covid-19 action infection.
Health experts feel that several deaths can be avoided in the future by using this method to detect secondary infections in covid-19 patients.
The advantage of using this method to detect pneumonia is that it can simultaneously pick up 52 different pathogens which infects the lungs of patients in Intensive Care units.
Apart from that, it can also be used to test for antibiotic resistance and this will help the doctors to determine the next course of treatment.
Health experts are of the opinion that standard antibiotic protocols can also be applied to patients suffering from covid-19 infection.
This method of detecting secondary infections is likely to be approved in the near future and it can help the hospitals to manage patients in an effective manner.
The new method of analysing the health condition of covid-19 patients will help the doctors to provide timely treatment. This can reduce the need for hospitalization in other cases and treatment can be given at the early stage.