Hazardous Air Quality Due To California Oregon Wildfires Affects Kids' Health
Nikki Attkisson | Last Updated : September 21, 2020
The air quality in the West Coast is getting increasingly bad over the years, especially when there are wildfires. The climate changes and fire season has made the air quality dangerous for a long duration. The air quality index in Oregon has registered over 500 since the last 10 days in most regions of the state. According to official figures, anything in the range of 0 to 50 is considered healthy air and anything above 301 is considered hazardous.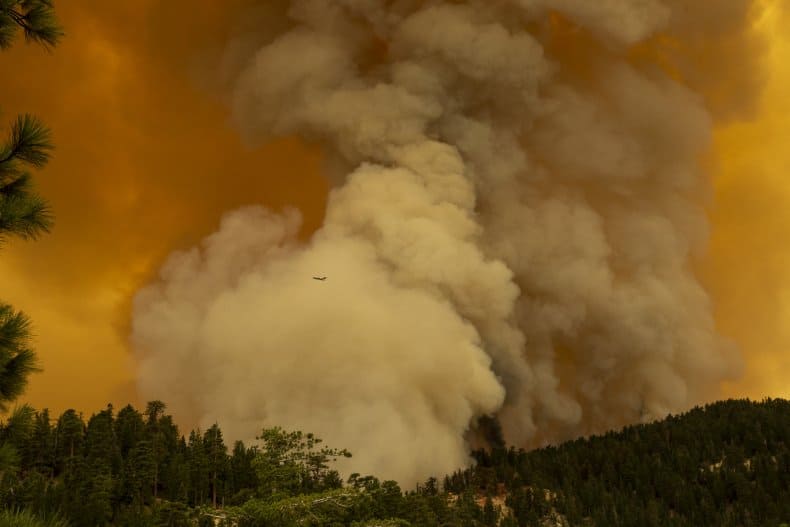 This problem is not just restricted to Oregon, and even the Bay Area of California is also seeing this problem for more than a month. Los Angeles County and even Washington state are dealing with such bad air quality problems for a long duration. State officials have given strict instructions to residents to stay indoors as much as possible as the smoke outside is hazardous. However, no one is completely safe in this situation as the smoke has continued to hover around for more than a few weeks now. Young children especially are more vulnerable in this situation, and parents are worried about them. Medical professionals also say that while this may not immediately affect the health of young children, it can have long term implications towards cardiopulmonary issues. As the fire season is expected to continue till the late fall season, there is little relief expected in this situation. However, some parts of Oregon may get some rains in the weekend, which can bring some temporary relief to the residents.
Some residents who have lost their homes in the fire are planning to leave the region permanently. As nothing is left for them back home, they are thinking of moving to a better place so that they can keep their families safe and get a good place to raise their children in the long run. Residents feel bad about moving away like this, but they are left with little option in this situation. Even though they had a good community in the region, the bad air quality does not make it a livable place anymore as many people equate the air quality to smoking multiple packs of cigarettes every day. This can be hazardous for the children, and they may suffer long term damage to their health. Even though pediatrics experts have a basic understanding that inhaling polluted air is not good for children, they are not sure about the long term implications of air pollution due to wildfires. They say that much research is needed on this subject, and the government should invest in public health to study and understand such things for the benefit of future generations.
Experts also say that smoke exposure due to wildland fire is different from urban fire as different things lead to smoke in both these cases. When it comes to wildland fire, it's mostly vegetation that is burning, and when it comes to urban fire, you may even have toxic building materials burning that is causing the smoke. The effects of both these particles are different in the lungs, and it is difficult to understand the specific effects of such pollution. Apart from that, there are several technical challenges when it comes to testing the lung function of children below the age of 6. The testing procedure involves breathing deeply and blowing out air as hard as possible for 5-6 seconds. This has to be repeated many times in order to assess lung function. However, it is difficult for doctors to use this method on children as they do not understand it properly, and things may not work in proper coordination during the test.
Even though there are other options like X rays and heat scans, using such methods on children is not advisable as exposing them to radiation is not a good idea, according to doctors. Even when the experts are able to use some test methods to assess the lung function of individuals, they say that keeping track of their health for about 5-10 years is not an easy task, and this has to be done on a large group of people to understand the effects of such pollution on the health in the long run. According to doctors, even normal healthy individuals face a decline in their lung function due to old age and other factors. However, when kids inhale hazardous smoke for a long duration, they may face problems much earlier. Given the current situation in Oregon and other regions, it makes sense to stay indoors as much as possible to avoid exposure to hazardous smoke. The air quality was so bad on some days that it went into the 800 levels, whereas the AQI technically registers levels only till 500.
Some residents who have seen many wildfires say that problems like asthma are common, and they take daily medication to ward off attacks. Others rely on inhalers and other methods to breathe easily in this situation. Parents are worried that their children will face worse health conditions if they have to grow in such regions. However, only a few privileged ones are able to move out to safe areas during this season. Many Latinos working in agriculture fields in Oregon do not have many options but to go out to the fields even during this situation. They cannot afford to take a break, and it is frustrating to work in such conditions. Most of them do not have sophisticated filtration systems to keep bad air away from home. To add to their problems, they cannot even afford daycare and bring young kids to fields, or they are left on their own. Health experts feel that the air quality is already damaging the body in many ways, even though the damage is not yet visible. They also warn that communities of color have higher rates of asthma, and the wildfires can make them worse in the long run. If the weather does not turn good in the next few days, the region could be in more trouble.
With over 15 years as a practicing journalist, Nikki Attkisson found herself at Powdersville Post now after working at several other publications. She is an award-winning journalist with an entrepreneurial spirit and worked as a journalist covering technology, innovation, environmental issues, politics, health etc. Nikki Attkisson has also worked on product development, content strategy, and editorial management for numerous media companies. She began her career at local news stations and worked as a reporter in national newspapers.
Sign Up For Our Daily Dose Of Hot News