According To A Recent Study, Mobile Stroke Units May Reduce Disability
Nikki Attkisson | Last Updated : September 11, 2021
After a stroke, every second counts, and quick mobile stroke units can begin administering clot-busting medicines as soon as possible, possibly preventing long-term damage. Stroke mobile units are specialized ambulances equipped with imaging technology and manned by specialists who can accurately diagnose strokes even before the patient is transported to a medical facility. Individuals who believe they may have suffered a stroke must often go to an emergency hospital for assessment and treatment, which may take a significant amount of time and effort.
According To A Recent Study, Mobile Stroke Units May Reduce Disability
Patients treated on the mobile stroke unit had reduced levels of impairment three months following their stroke, according to this research, compared to those who were treated when they arrived at the emergency room. According to Grotta's findings, approximately 27 individuals will have less impairment, and 11 more will fully recover for every 100 people who suffer a stroke and are treated in a mobile unit.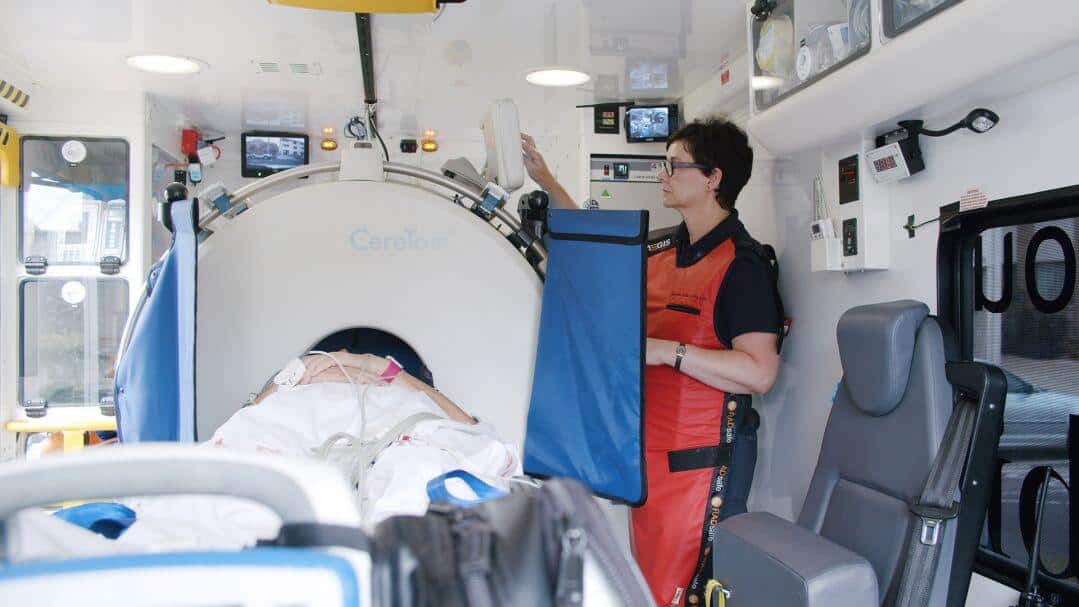 In addition, the researchers discovered that the median time between the beginning of a stroke and the commencement of therapy was 36 minutes less than previously thought (72 minutes versus 108 minutes). At the same time, 55 percent of mobile unit patients had reverted to their previous activities, compared to 44 percent of conventional emergency-care patients after three months. It is the most frequent kind of stroke, and it is caused by an ischemic event. Blood clots in the brain cause them to form when the blood flow to the brain is interrupted. Tissue plasminogen activator (tPA), a clot-busting drug, effectively prevents long-term disability such as paralysis or speech problems following a stroke. However, it is only effective if it is administered within 4.5 hours of the onset of the stroke, and the earlier it is administered, the better.
It included more than 1,500 patients and was later extended to six locations throughout the United States and Canada. As a whole, 1,047 individuals were found to be eligible for tPA benefits. The mobile unit provided care to 617 of those who needed it the most. Individuals treated in the mobile unit were much more likely to get this medication within the crucial first hour following a stroke. According to Grotta, as many as 70% of those who receive tPA within the first hour will recover with no long-term consequences.
Operating costs for one of these units are a factor to take into account. According to Grotta, purchasing and using a mobile stroke unit requires about $1 million, with annual operating expenses of approximately $500,000. Despite the fact that it is costly, "it saves lives and saves money for the health-care system by decreasing the need for protracted disability care," he said. An adequate reimbursement from insurance will be required before this can be extensively adopted across the nation. In Grotta's words, "this is something on which we are working."
The New England Journal of Medicine published the findings of the research on September 9th. According to the new research, in accordance with a recent study, personnel on mobile stroke units may conduct an emergency treatment on stroke victims that substantially increases their odds of survival and successful recovery. An endovascular thrombectomy procedure, which is used to remove large blood clots that are obstructing brain blood flow, is available.
With over 15 years as a practicing journalist, Nikki Attkisson found herself at Powdersville Post now after working at several other publications. She is an award-winning journalist with an entrepreneurial spirit and worked as a journalist covering technology, innovation, environmental issues, politics, health etc. Nikki Attkisson has also worked on product development, content strategy, and editorial management for numerous media companies. She began her career at local news stations and worked as a reporter in national newspapers.
Sign Up For Our Daily Dose Of Hot News