A London court is due on Monday to start hearing arguments on the extradition to the United States of Wikileaks founder Julian Assange. The hearing was delayed due to the Coronavirus pandemic that will resume on Monday, Sep 7' and is due to run until early October. A US grand jury brought a charge against Assange last May with 17 counts under the US Espionage Act and one count of computer hacking.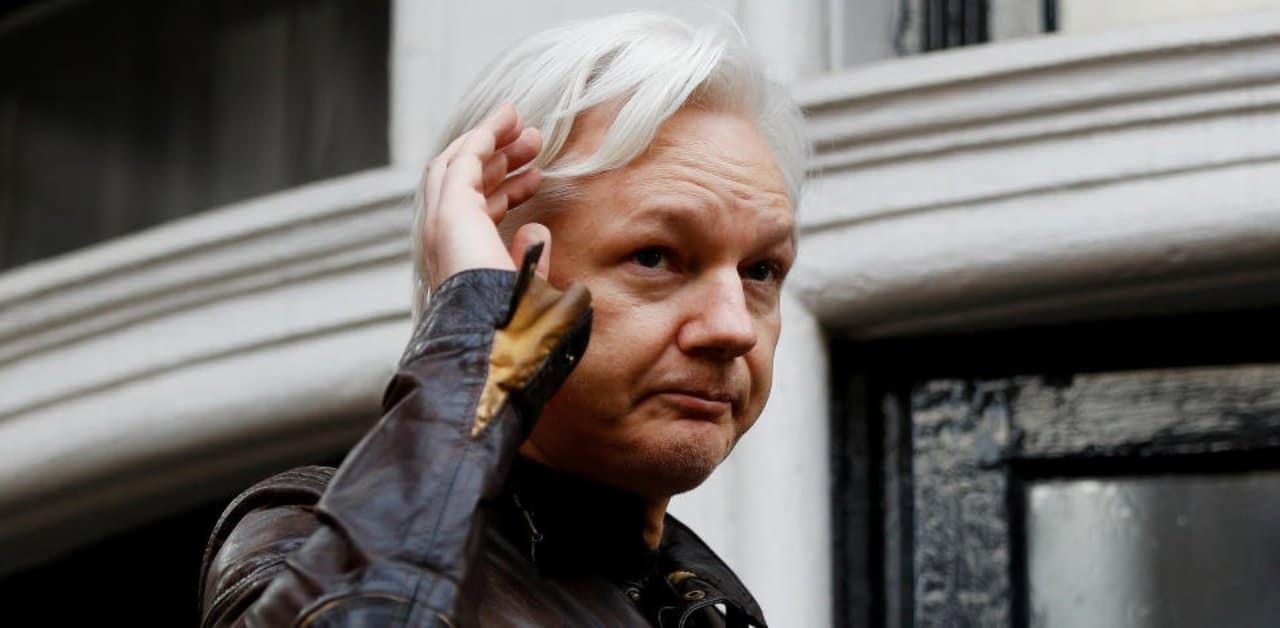 As each of the 17 counts carries a maximum sentence of 10 years, he could face a total of 175 years' jail. British authorities are asked by Washington to extradite Assange to the U.S. to face a court over charges of conspiracy to commit misuse crimes connected to Wikileaks. The espionage charge refers to Assange's activities with the Wikileaks in 2010-11 when the website published classifies diplomatic, military documents exposing alleged war crimes in Iraq and Afghanistan.
More than 700 secret reports revealed the ill-treatment and torture of detainees at US military detention cramp in Guantanamo Bay. The information became public in collaboration with selected media outlets, including The Guardian, Le Monde, and The New York Times.
Assange is accused of conspiring with former US army intelligence analyst Chelsea Manning to obtain and disclose information "with reason to believe that, it was to be used for the injury of the United States or the advantage of the foreign nation,"  according to the Department of Justice (DOJ) press release. Born on July 3 '1971, Julian Paul Assange is an Australian editor, publisher, and activist who founded Wikileaks in 2006. Wikileaks came to International Attention in 2010 when it published the series of leaks provided by US Army intelligence analyst Chelsea Manning.
These leaks include the Bagdad airstrike Collateral Murder video (April 2010) and Afghanistan war logs (July 2010). After the 2010 leaks, the United States government launched a criminal investigation into Wikileaks. In November 2010, Sweden issued an international arrest warrant for Assange, after questioning him months earlier about an allegation of sexual assault. Assange denied the allegation and said there was a pretext for him to be extradited from Sweden to the United States because of his role in publishing secret American documents. Assange Surrendered to UK police on December 7' 2010 but was released on bail for 10 days.
Among Wikileaks' most prominent release is a video known as "Collateral Murder," which showed US soldiers shooting and killing 18 civilians, among them two Reuters journalists- from a helicopter in Iraq. Assange is currently held in the high-security Belmarsh prison in South-East London. However, the concern is expressed by supporters about his mental and physical health, and the UN Special Rapporteur on Torture, Nils Melzer, said earlier that Assange exhibited signs of psychological torture this year.
The 49 year – old has been in custody since last April. He was issued a 50-week jail sentence for breaching bail conditions back in 2012 when he sought refuge inside the Ecuadorean embassy in London following Sweden's issuing of an international arrest warrant over rape allegations. The Swedish authorities dropped that investigation in November 2019.
Some highlights over the cases are:
Assange is in jail because he was found guilty of skipping the bail-in 2012 when he fled to Ecuador's embassy in London for diplomatic refuse rather than turn himself into British authorities for the possible extradition to Sweden.
Assange remained at Educator's Embassy in London for seven years. Educators say it kicked him out partly because of his unsocial behavior and also because he was the constant source of distraction for the embassy staff. But Assange denies this and claims that the US was put under pressure by Trump to expel him in return for the improved relations with Quito.
He was sentenced to 50 weeks in prison for breaching bail in 2012. While now he has served this period, he remains in detention for the extradition hearing because prosecutors argued he is a flight risk.
The circumstances which gave rise to the Swedish investigation into Julian Assange have been much obscured. The police treated their visit as the filing of formal reports for rape and molestation.
The first Amendment typically restrains the government from jailing, finning, or imposing liability for press publishers. It does not shield journalists from criminal liability. Impeachment against Assange is under the Espionage Act of 1917, and one under is under Computer Fraud and Abuse Act.
The Senate committee's report additionally concluded that then-Trump campaign adviser Roger Stone tried to get WikiLeaks to tell him about its planned information releases connected to the 2016 election. Stone visited Ecuador's embassy at least once after Trump was elected. As part of testimony given during Assange's extradition hearing in February, Assange's lawyer told the court that Trump offered a pardon Assange if the WikiLeaks chief agreed to say Russia had nothing to do with hacking emails from Democrats during the 2016 presidential election. White House spokeswoman Stephanie Grisham called the claim by Assange's lawyer "a complete fabrication and a total lie."  Rohrabacher visited Ecuador's embassy in 2017. He confirmed that he discussed the idea of a pardon with Assange but claimed he never discussed the matter with Trump himself.
Julian Assange describes himself as a political refugee. He maintains that he is a journalist and should be unsusceptible from the prosecution and that his work revealed embarrassing and highly damaging facts about the wars in Iraq and Afghanistan.
Assange's detractors say he doesn't write stories or interview anyone or provide sufficient explanatory context to the material WikiLeaks releases. The. The dissemination of raw, unfiltered documents and data – the publication of stolen classified materials – should not count as journalism.
N. Panel rules in his favor- A United Nations rights panel said in January 2016 that Britain and Sweden had arbitrarily detained Assange, should restore his freedom of movement, and compensate him. The panel said that Swedish prosecutors had not pressed charges and had never shown Assange evidence against him or given him a chance to respond. Both countries disregarded the ruling, Assange remained in the embassy.
Latest posts by Nikki Attkisson
(see all)