World's Oldest Person To Carry The Olympic Flame At 118
Nikki Attkisson | Last Updated : March 6, 2021
Olympic games are finally set to begin in May this year hosted by Japan. The country will start with the Olympic torch that will be carried by 118 years old Kane Tanaka.
Kane Tanaka had survived twice from cancer and have seen two global pandemics in her life time. She is now prepared to carry the flame in Shime, Fukuoka.
World's Oldest Person To Carry The Olympic Flame At 118
She will be pushed in a wheelchair by her family members for about 328 feet before passing on the flame to next runner. However, even in such a tender stage of life, she is determined to walk at least few steps while carrying the Olympic torch.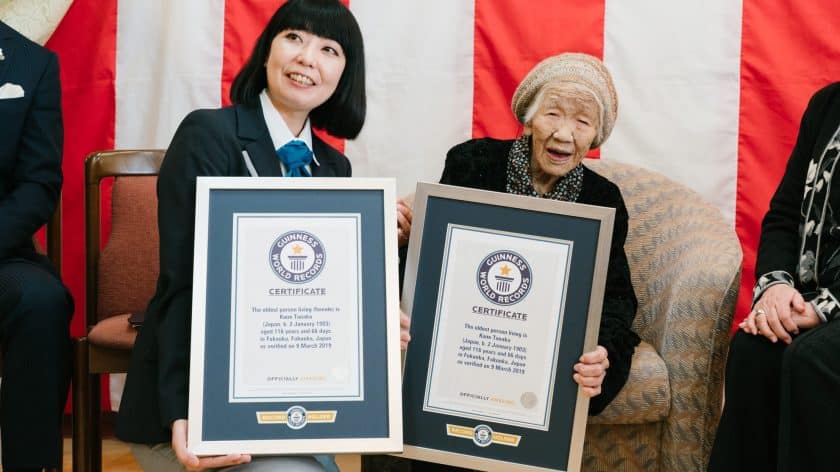 Her grandson, Eiji Tanaka, who himself is in his sixties, said that they want the world to see and get inspiration that one can maintain an active and healthy lifestyle even at 118. Age is not a barrier to try anything new.
Previous records of the oldest torchbearers in the Olympics history include Aida Gemanque from Brazil and table tennis player Alexander Kaptarenko. Gemanque carried the flame for the 2016 Rio Summer Games at an age of 106. Kaptarenko carried the flame in the 2014 Sochi Winter Games at an age of 101.
Eiji said that she loves to drink fizzy drinks and love to live in the present. He added that she is almost as old as the as the modern Olympic games. She seldom talks about the black history of Spanish flu, or the two world wars and said that she is a forward thinker.
Tanaka who is living in a nursing home loves to play board games, Othello. According to her family, she is curious about things and that loves to do math. This is the secret behind her behind her sharp mind and healthy body.
In the year 2019, Kane Tanaka was certified to be the world's oldest living person by the Guinness Book of World Records. While the record for the oldest person who ever lived is with a French woman who died at an age of 122.
Eiji Tanaka said that his grandmother (Kane Tanaka) wants to survive to break that record as well.
The Olympic games that were scheduled to take place last year in 2020, got postponed due to the pandemic. Now, with necessary restrictions, the torch relay will begin this year starting from Fukushima prefecture on March 25.
The torch then will be carried to the earthquake and tsunami hit region of 2011 before traveling to every corner of Japan.
While the Olympic torch relay is carried out, the 3 C's, i.e., closed spaces, crowded placed and closed contacts shall be avoided.
People are advised either to stay home or to wear mask if want to see the relay from roadside. They are also asked to support the Olympic flame relay with applause instead of cheering and shouting. The relay will be live telecast as well.
Torchbearers of the 2020 Olympic flame are advised to practice all the health and safe guidelines and update about their health on daily basis. They are asked to avoid anything that can expose them to infection.
Even Tanaka need to maintain her health till the time she is required to bear the Olympic torch. Her participation is sponsored by a Japanese life insurance company. And her participation in the relay event depends on her health at that time and the weather conditions as well.
Kane Tanaka is not preparing additionally for the torch bearing ceremony. However, she is really excited about the relay event and her participation. Kane Tanaka is a lively person who has always love festivities and now is going to be a part of the Olympic torch relay event.
With over 15 years as a practicing journalist, Nikki Attkisson found herself at Powdersville Post now after working at several other publications. She is an award-winning journalist with an entrepreneurial spirit and worked as a journalist covering technology, innovation, environmental issues, politics, health etc. Nikki Attkisson has also worked on product development, content strategy, and editorial management for numerous media companies. She began her career at local news stations and worked as a reporter in national newspapers.
Sign Up For Our Daily Dose Of Hot News