Classic Solitaire: Why is it a Popular Game and How to Play it?
Nikki Attkisson | Last Updated : May 16, 2020
This COVID – 19 pandemic has been disastrous for all. and we are forced to stay inside the homes for our safety. However, staying in one place for an entire day is tiresome and boring. There are a bunch of things that are good to spend time – like playing games like Classic Solitaire.
If you are tired of watching movies or TV shows, why not play games like Classic Solitaire? Online games are one of the best ways to spend time during this quarantine. We can either play actual card games or on our devices like smartphones, tablets, or computers.
Today, we will talk about Classic Solitaire that's played on computers or smartphones. We will talk about the nature of the game, how to play it, and where to play it. We are sure that once you get familiar with it, you will get hooked to it. That's the magic of Classic Solitaire.
There are many iterations and versions of Solitaire, however, Classic Solitaire is an all-time favorite of people.
Origin of Classic Solitaire
Klondike Solitaire also knows the Classic Solitaire is an old, tabletop card game that you can play by yourself, no need to play with others. It's also known as Patience in Europe. The game has been around for a long time, but the real popularity it received came when it was launched on Microsoft Windows.
Yes, you heard that right, the computer game, 'Solitaire' that was launched in 1990, is the reason for the popularity of Classic Solitaire. It's now an integral part of the Windows product line.
The game was developed by Wes Cherry in 1989, who was interning at Microsoft at that time. The deck of the game was so realistic that it gives you the feel of playing an actual card game. The deck of cards was designed.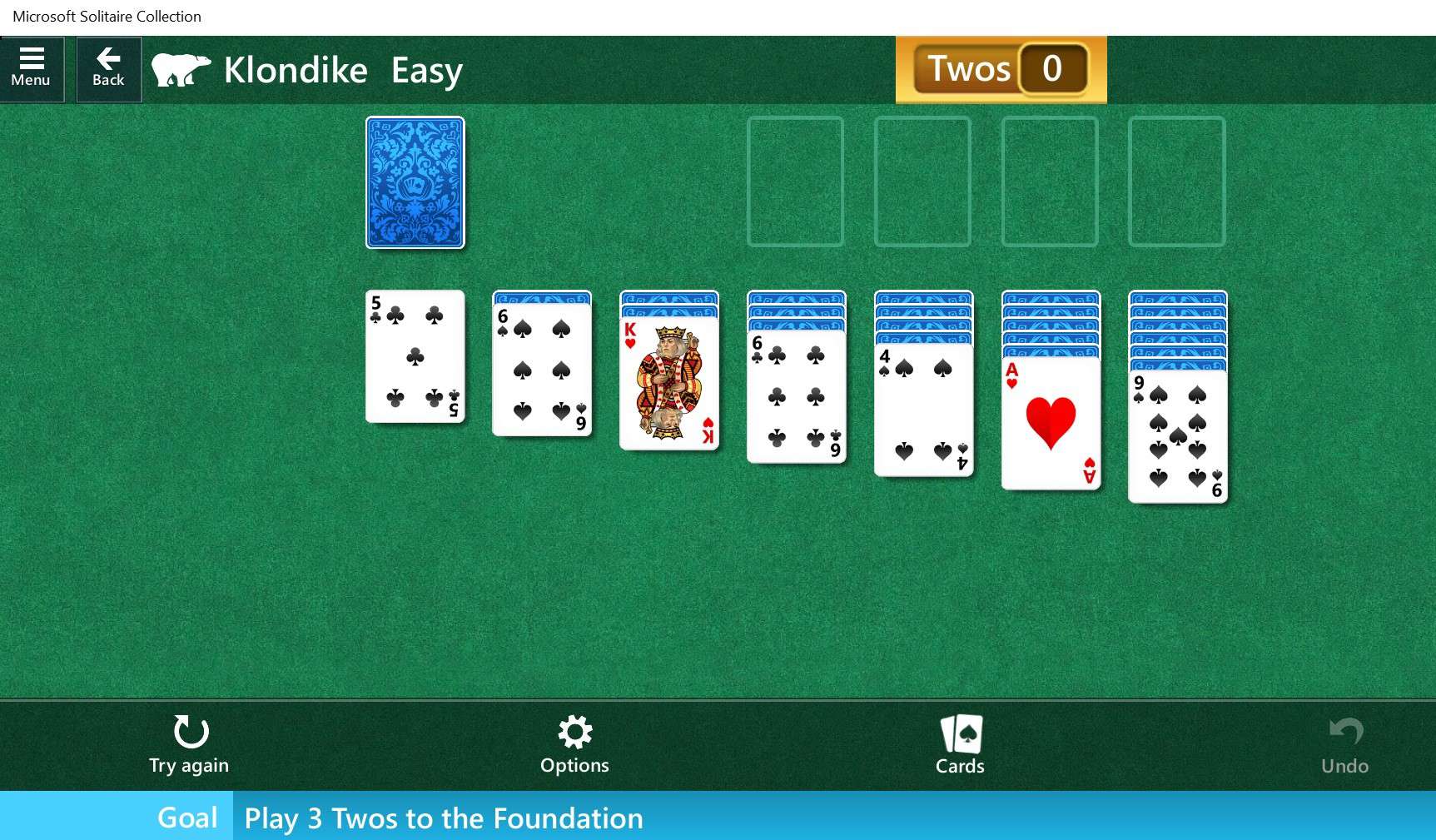 Klondike on Windows 10
The Classic Solitaire played an essential role in familiarizing users with the computer and its graphical user interface. Since the game involved using a mouse and implementing the 'drag and drop' technique to move cards while playing, it taught people how to use a mouse. This familiarity allowed the new users to adapt to this new technology.
How to Play Classic Solitaire?
Since the Classic Solitaire has various versions, the most popular one is Klondike Solitaire. If you are not familiar with other types of Solitaire, you are most likely to play Classic Solitaire and enjoy it too.
In Classic Solitaire, you have to sort the cards by moving them between various columns. You must put them in order, starting from Ace to King.
The game is started with 28 cards divided into columns, and this layout is called Tableau. You see that there are seven rows of cards on the table with one card from each row with face-up. The order of cards' row is like this:
Row one: one card face up, and no card face down
Row two: one card face up, and one card face down
Row three: one card face up, and two cards face down
Row four: one card face up and three cards face down
Row five: one card face up, and four cards face down
Row six: one card face up, and five cards face down
Row seven: one card face up, and six cards face down
The layout looks like this: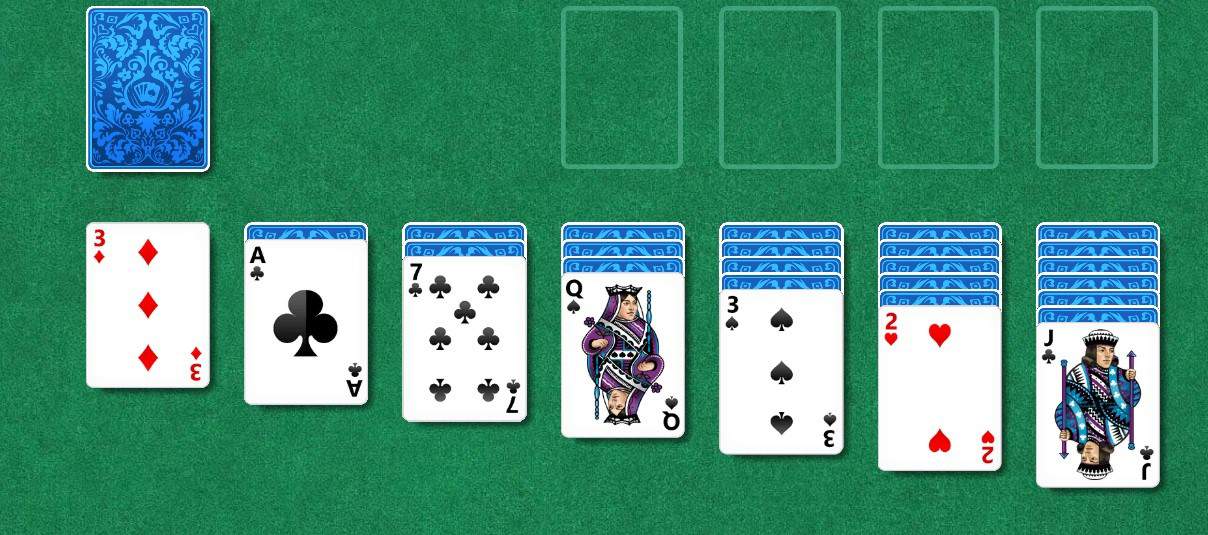 From the above image, you can see that four blank rows are there in the upper right corner of the layout. That's where you have to build the foundation of suits. The foundation starts with Ace of every suit.
When an Ace appears from the bottom seven rows, you drag and drop it in the blank foundation space. And continue building it until you finally place a King on the top.
You can move the cards in between columns during the game. However, you should remember that bottom columns do not support two same colored or type cards.
In simple words, the order should be simple like one red and one black card. Once you put a card in the foundation, it can't be drawn back. You can deal with cards from the stockpile to fill up your columns.
if you run out of cards to deal with, you can reset the stockpile, there's no limit to dealing cards. The basic nature of Classic Solitaire is you need to complete the four foundations with suits of cards. Every foundation must start from Ace and complete with King on the top.
Final Words
Classic Solitaire is a game that's been popular for over a couple of decades. You can play it to spend quality time during this lockdown. The best thing about it is that you don't have to ask anybody to play with you nor do you need a deck of actual cards.
If you have a Microsoft Windows computer at home, you get it pre-installed in it. If not that, you can search on Google and play it on the Google search page. It's like a simple 8-bit game.
There are sites like Classic Solitaire.com that are a good alternative to Windows Klondike Solitaire games. Make sure to play it, once you get familiar with the classic version you can switch to more complex versions of the game.
If you have friends who are bored during the quarantine, share this article with them to encourage them to play Classic Solitaire.
With over 15 years as a practicing journalist, Nikki Attkisson found herself at Powdersville Post now after working at several other publications. She is an award-winning journalist with an entrepreneurial spirit and worked as a journalist covering technology, innovation, environmental issues, politics, health etc. Nikki Attkisson has also worked on product development, content strategy, and editorial management for numerous media companies. She began her career at local news stations and worked as a reporter in national newspapers.
Sign Up For Our Daily Dose Of Hot News