The mother of two came to Instagram today to prove that she still has it (in case anyone doubted it by uploading a series of images published for a Father's Day homage to her father, Joe, Jessica Simpson sported a stunning bikini while resting in the pool. She later shared a photo without any makeup.
Jessica Simpson Wore A Rocking Swimsuit In Her Father's Day Tribute Post!
Jessica Simpson, 41, has flaunted her beauty in a variety of ways during the previous few days. The singer shared many new images of herself and her family over Father's Day and Juneteenth weekend, including a swimwear snap and a makeup-free selfie.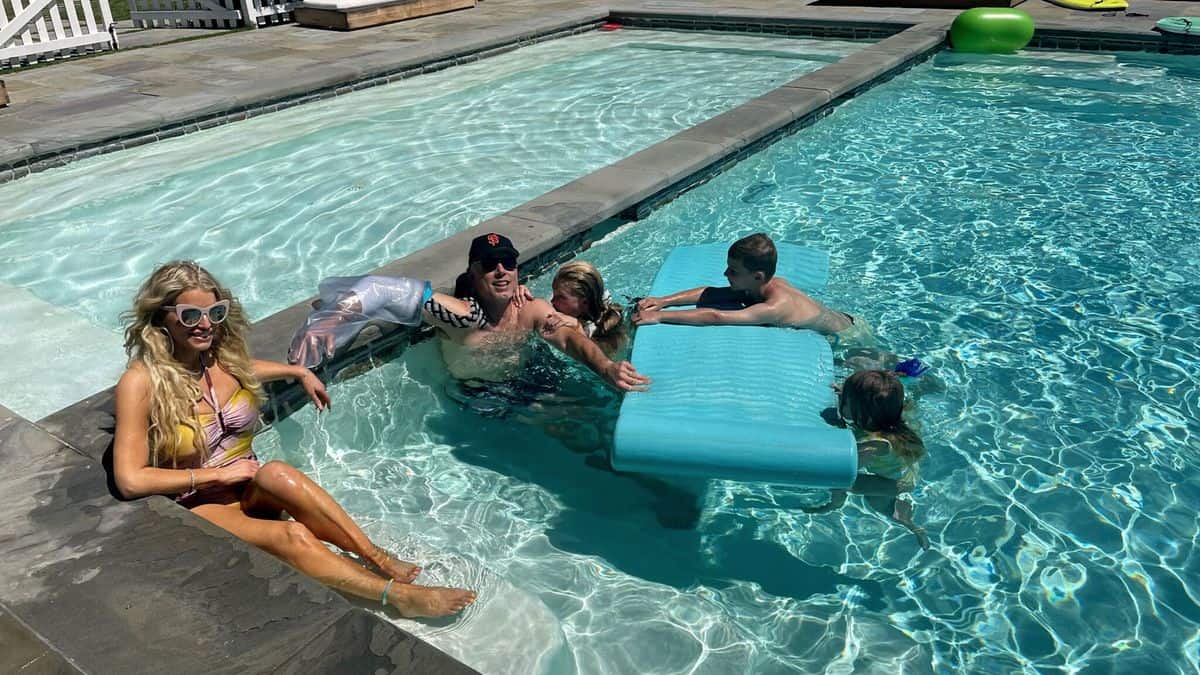 The model recently posted a collection of images from a Father's Day get-together with her family. One of them showed her sunbathing in a pool while dressed in a purple and yellow bikini that showed off her amazing form. She finished the ensemble with similar sunglasses and a smile as she spent time with her husband, Eric Johnson, and their three children, Max, 10, Ace, 8, and Birdie, 3.
Her father, Joe Simpson, enthusiastically posed with her as they hugged, and a Happy Father's Day sign/letter that looked to be prepared for Eric by one or two of her children was also included in the photos. "We adore you," she captioned the second photo, referencing her husband's Instagram account.
Jessica then posted a makeup-free selfie, which you can see above, on Monday, June 20. In the spectacular shot, her long blonde hair fell down, and she included a sweet comment that complimented dad.
Jessica gained notoriety before her Father's Day posts because she shared an eye-catching photo of herself standing and posing in a different bikini. It was patterned in black and white, and she wore it with black wraparound strappy shoes and a denim jacket. In the caption for the unforgettable and seductive shot, she added, "All I need is a jet ski."
On May 25, Jessica Simpson posted a stunning new photo to her Instagram account, showing off a new black-and-white-printed one-piece from her line's summer collection. She also flaunted her incredible form by layering a jean jacket over the suit and accessorizing with blue snakeskin "Janya" strappy shoes from her own label.
"All I need is a jet ski," the fashion mogul captioned the photo, alluding to the look's summery feelings. Jessica has never looked better after she lost an astonishing 100 pounds! Jessica's trendy photos have gained a lot of attention after she revealed that she had lost weight following her third pregnancy.
The Texas native, who has three children with husband Eric Johnson: Maxwell, 10, Ace, 8, and Birdie, 3, has previously discussed her workout routine after giving birth to her youngest kid, which includes completing 12,000 steps every day.
"I was so proud of myself, and I was proud of my perseverance, regardless of what others said…." "I believe the good comments about [my weight loss journey] are what I hang onto, and it's why I uploaded [the Instagram photo] — for that one person to come in and feel better about themselves and work very hard," she explained.
"Because it's incredibly empowering and it made me so emotional when you work very hard to look and feel the way you do at a very joyful moment, especially with your children." she captioned.
Read More:
Latest posts by Nikki Attkisson
(see all)